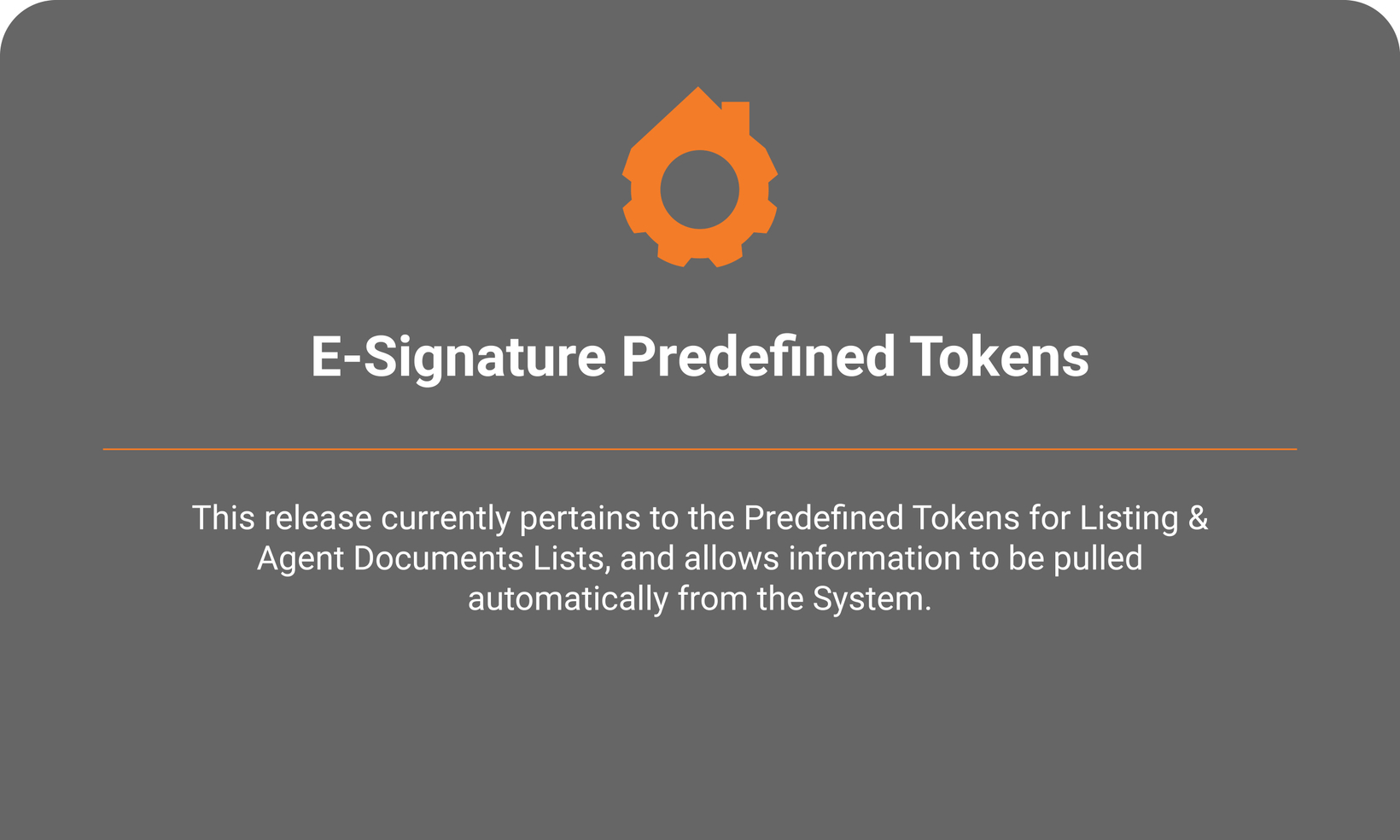 DATE:

AUTHOR:

The Brokerage Engine team
Documents
Features
Enhancements
E-Signature predefined tokens for Listing & Agent Document Lists
DATE:
AUTHOR: The Brokerage Engine team
With this exciting release, Users are able to customize predetermined fields within Eversign so that information is automatically pulled from the system via user specificity, eliminating the hassle of repeated entries throughout specific documents.
In the first part of this example, we'll explore the predefined tokens that currently exist within given Documents. Here, we're taking a look at a Listing Agreement. Notice that as we Edit and then Prepare, the system is already displaying information for the predetermined fields. With this release, users can now right-click, select "Field Identifier," and edit the location from which information is pulled from the system. For example, we could tell this field to pull information from the system by editing the label to be "Seller2_Name" instead of "Seller1_Name." Below is a complete list of labels that can be used to transfer information from the system.
Currently, this release only pertains to Listing & Agent Documents Lists. However, updates to Transaction Document Lists are currently in production, and will encompass the same ability to edit and customize.
Notice as we've now navigated back to our Templates, selected "Test Agent Document," and gone through the Edit, and Prepare process, we can right-click, select "Field Identifier," and edit the field to our choosing, and based on the currently available labels (again, a complete list of labels).
Now that we're back in the System, we can see this update at work. As we navigate to Request a Signature using the Document we just customized in Eversign, our "Test Agent Document," you'll see that all the information we've predefined has automatically pulled in. Again, each of these fields is customizable based on the unique needs of your Brokerage.
With only a few modifications to current Document Lists, pulling predefined information from the System will allow for increased efficiency, and an easier user experience for Agents and Admin alike.
Current List of Available Tokens:
Listing Tokens:
Listing_Address
Listing_ListPrice
Listing_ListDate
Listing_ExpirationDate
Seller1_Name
Seller2_Name
Agent Tokens:
Agent_FirstName
Agent_LastName
Agent_DisplayName
Agent_Phone
Agent_Email
Agent_LicenseNumber